Trends are always on the move. And, while taking into account the events that affect our daily lives, interior design always adapts to the needs of society. At the dawn of the new year, we are already seeing our decors reinvent themselves to (re)provide comfort and well-being. The 2021 Interior Design Trends are right on target to re-invent our interior.
1. Cozy materials: Velvet and Looped Wool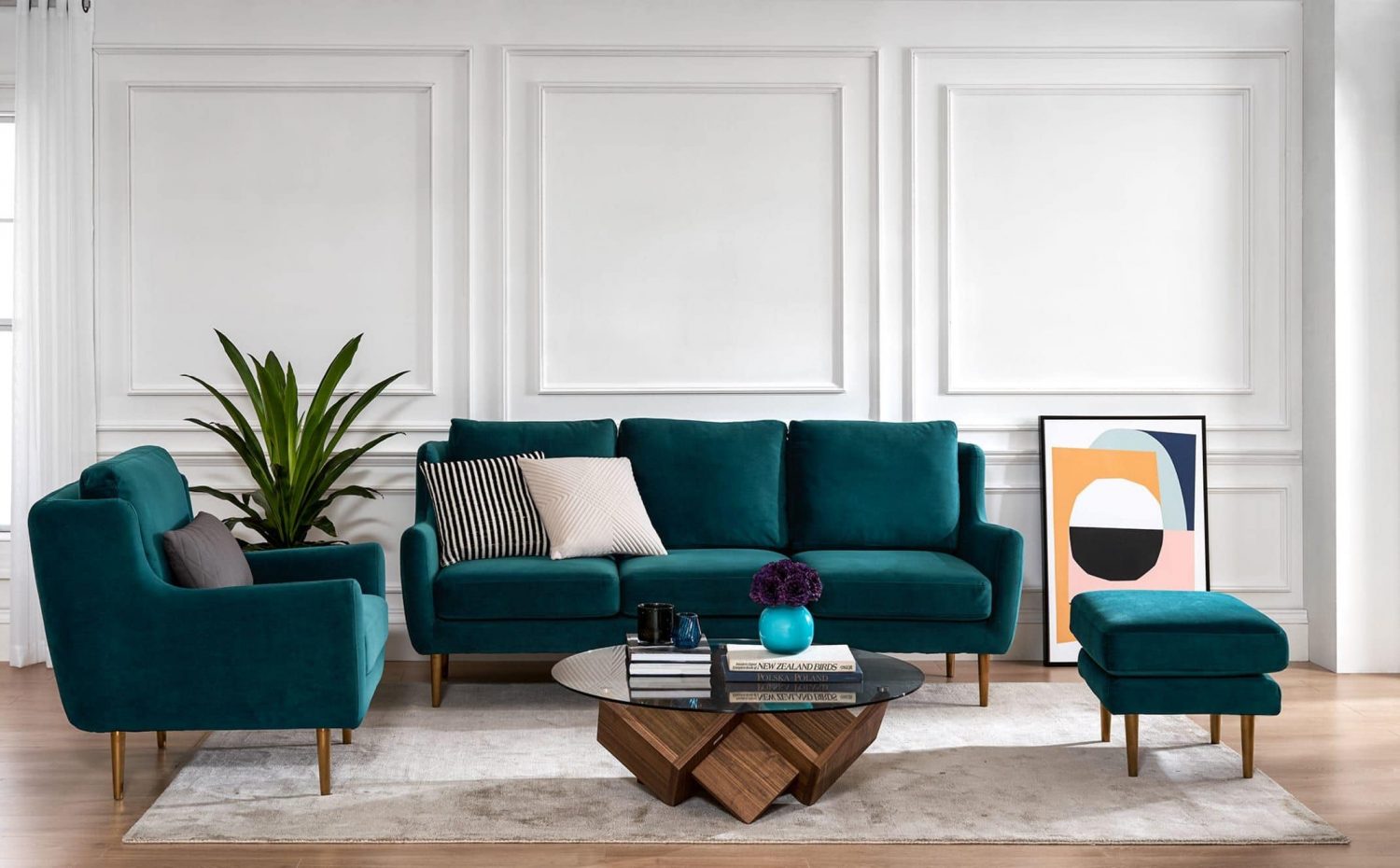 Photo Tiara Brown via Pinterest
Velvet comes back to life in our decors to comfort us and soften the spot where we like to curl up the most. Particularly more appreciated in the living room, it gives an interior an enveloping aspect while providing finesse and elegance.
Photo Jules Villbrandt via Pinterest
After seducing the fashion world, looped wool was adopted as the 2020 deco trend. It is now seizing on furniture and accessories to bring its fluffy and warm material, and thus, create a cozy environment.
2. Rough coatings: Lime, Concrete and Cement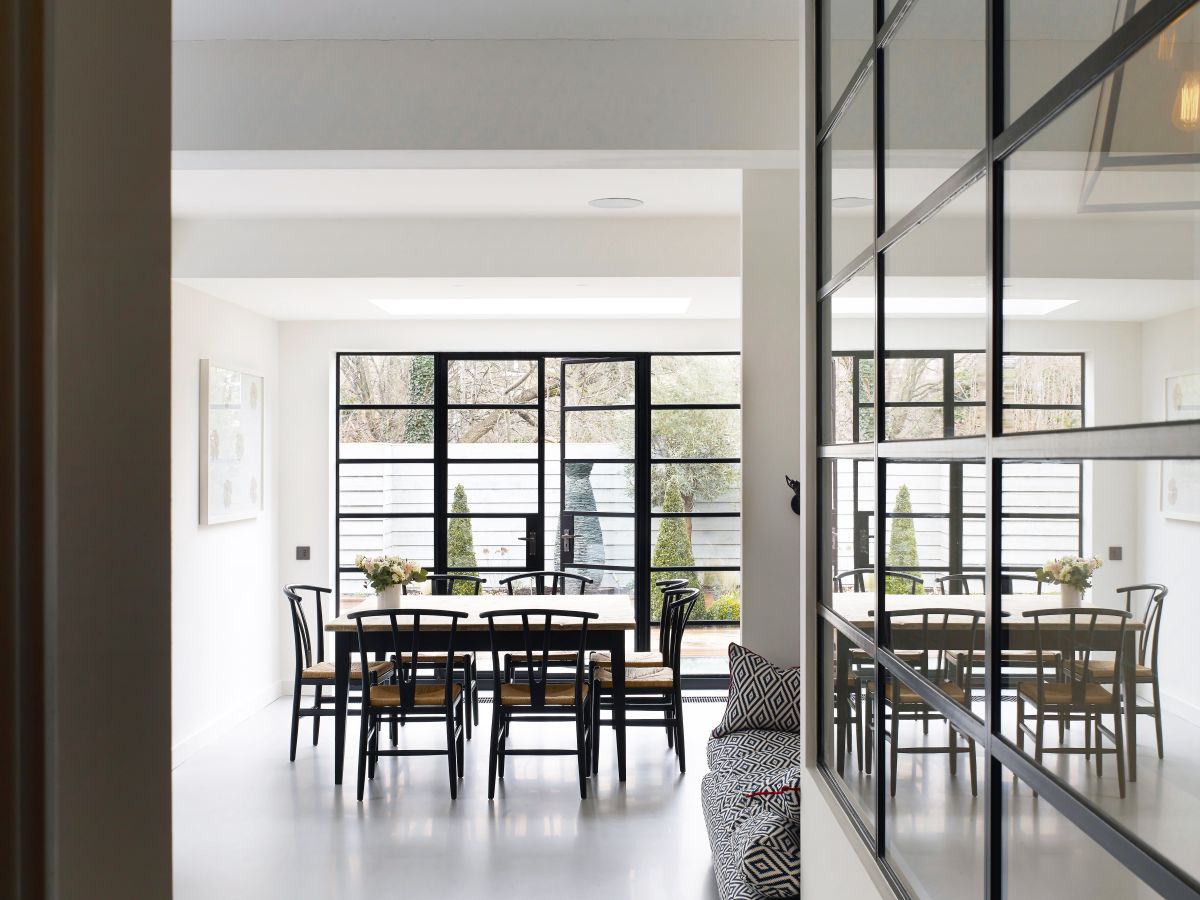 Photo Crittal via Pinterest
Far from being unrefined, raw materials take their place in our interiors. Lime is often used on walls as an arrangement in Mediterranean homes. As for concrete, waxed or not, it modernizes floor coverings. Its naturally cold appearance can be easily warmed up by wooden furniture.
3. Palette of "nudes": The return of natural palettes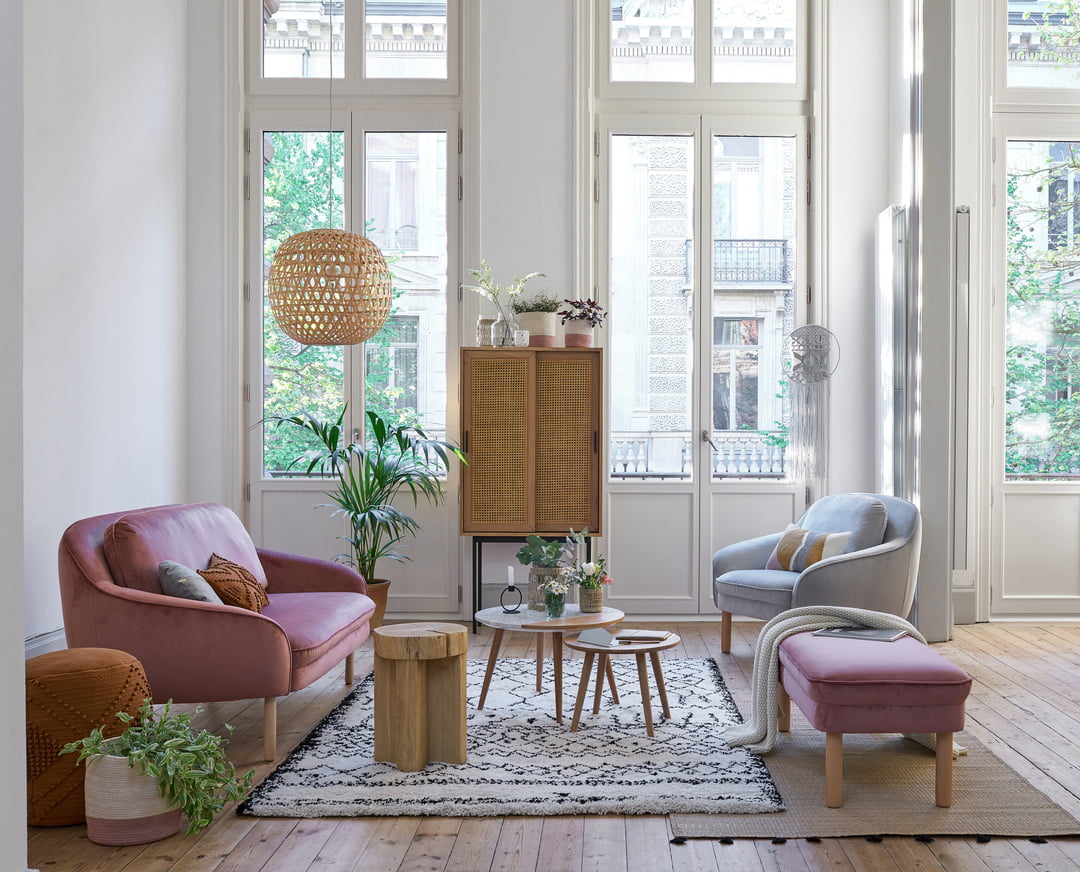 Photo Notreloft.com via Pinterest
Bubbles of softness, luminosity, light tints… Colors such as greige (silk color at its raw state), powder pink and beiges invite themselves in monochrome but, if used correctly, they will provide a distinct style to a room or even an entire decor.
4. Upsurge in retro design and graphic arts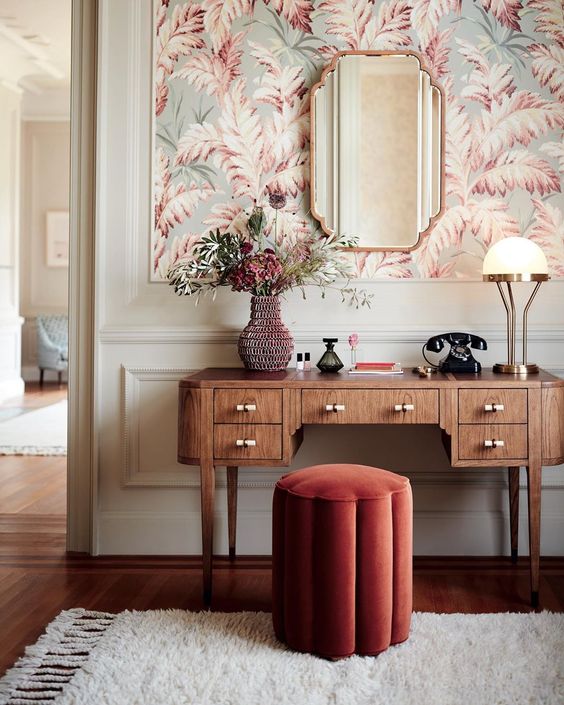 Photo Soho Home Instagram
Say : "Mix retro furniture and modern interior design", says: "You are on the lookout for the latest trends!". Let us marry the past with the present. Let's combine this furniture unearthed at the antic store with our decor and natural palettes.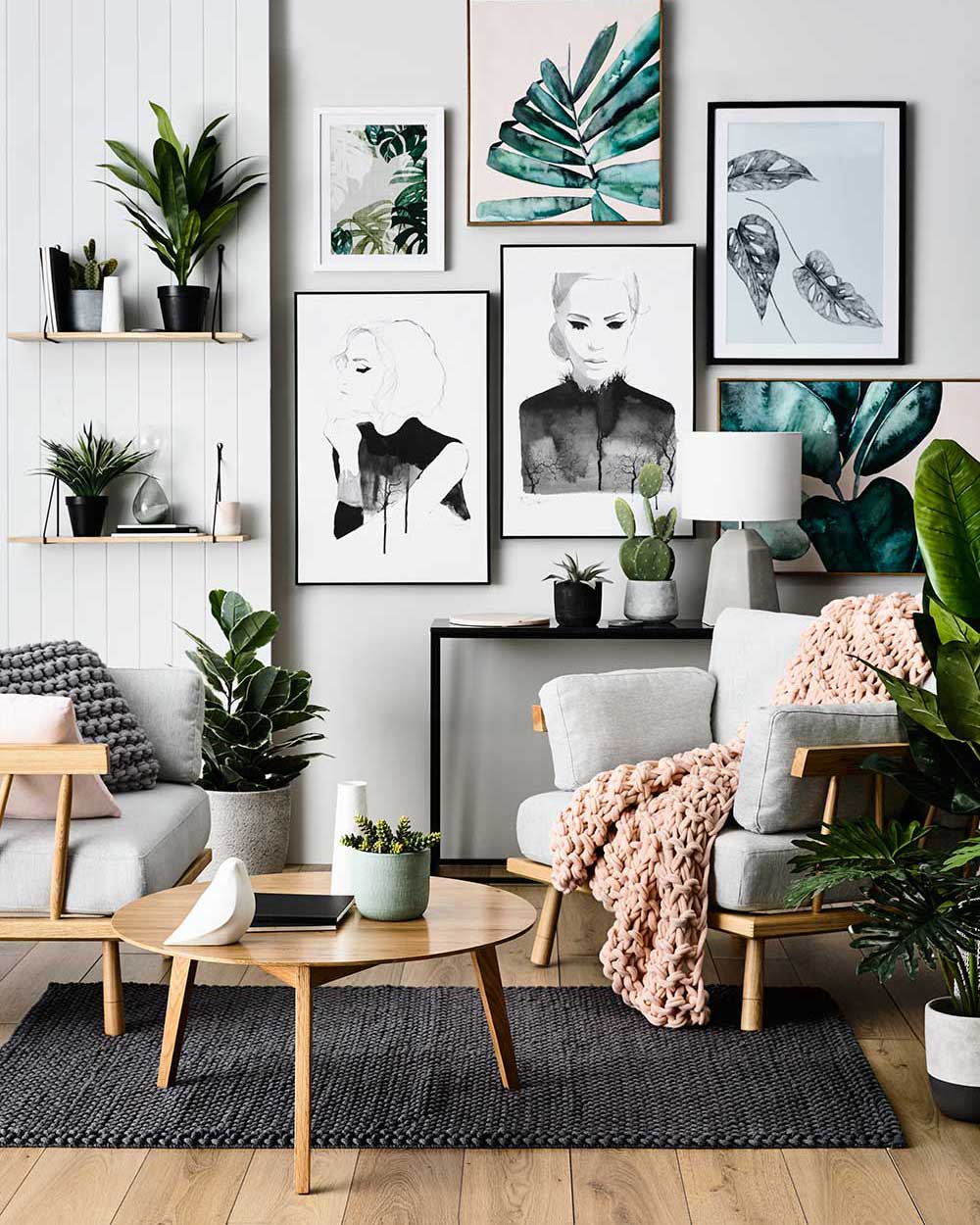 Photo Adairs Interior trends
Graphic art is entering our homes whether it is in multiples or in solo. At a time when this art belonged only to the elite, it is now democratized and settling in all types of homes. As a wall composition, it will definitely accentuate the atmosphere.
5. Round round round! The furniture rounds up in 2021.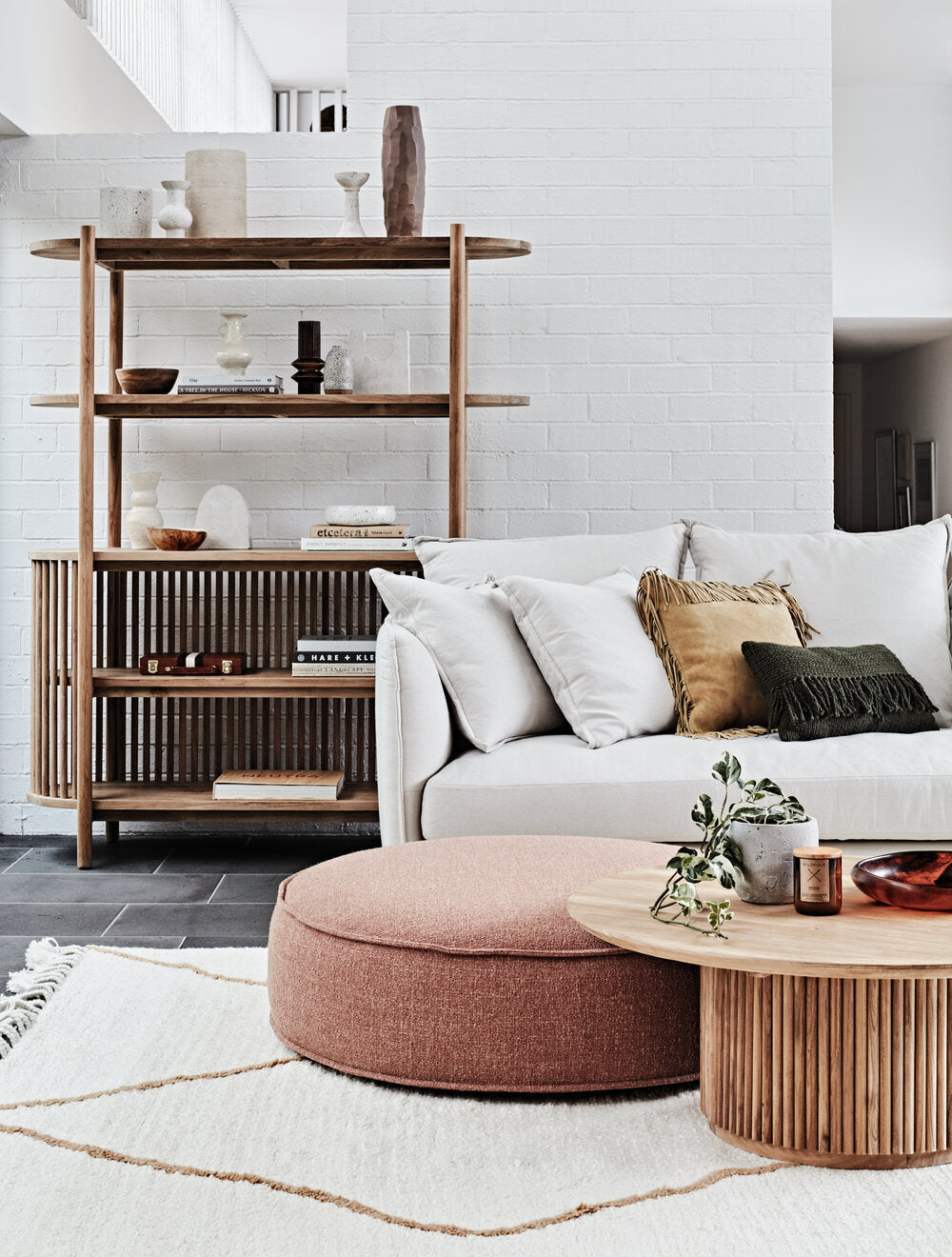 Source TLC Interiors
The trends leap towards decors that are more studied and refined, the straight angles seem to give way to the curves in order to naturally lighten the final result. Attractive curves, round and oval shapes, we slide into a fluid and refined space.
6. Olive and Khaki Shades: A reminder of Nature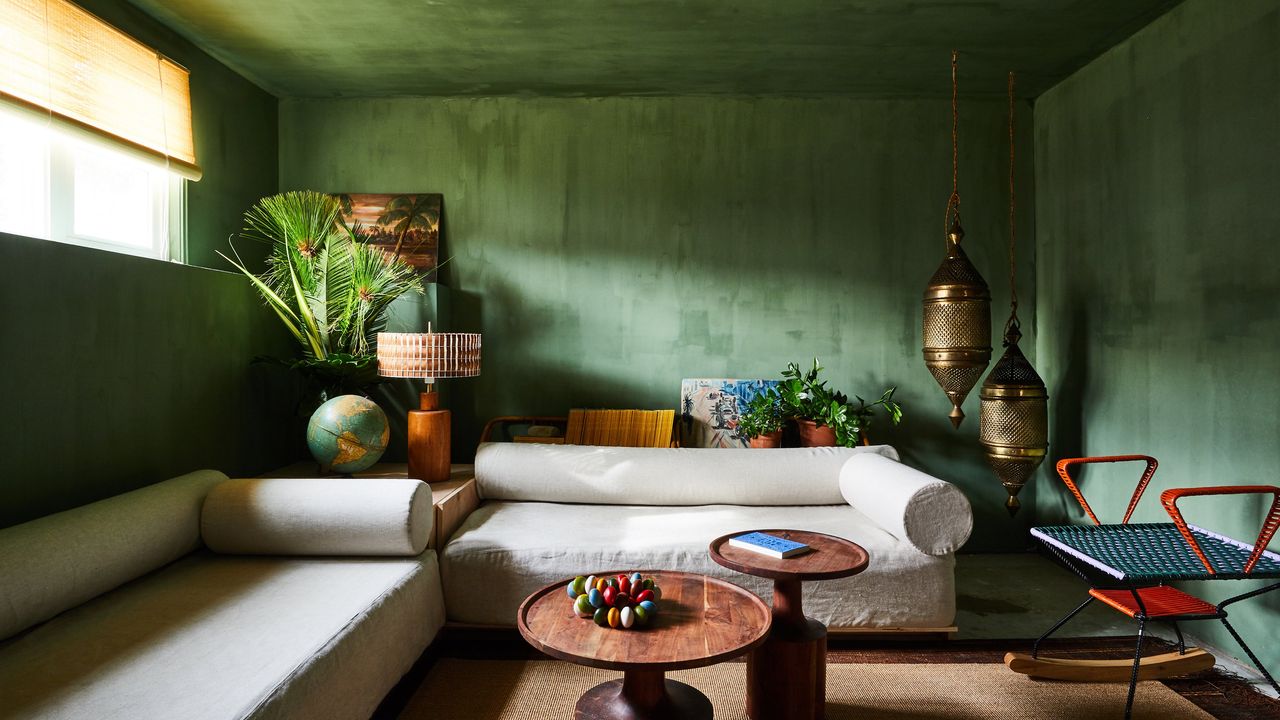 Source : The Wall Street Journal
Well anchored in our decors, green persists as a fundamental trend in modern interior design. The resurgence of this color immediately confirms the personality of the house inhabitants, and thus, the temperament of its interior.
7. Slow materials: Nature in the spotlight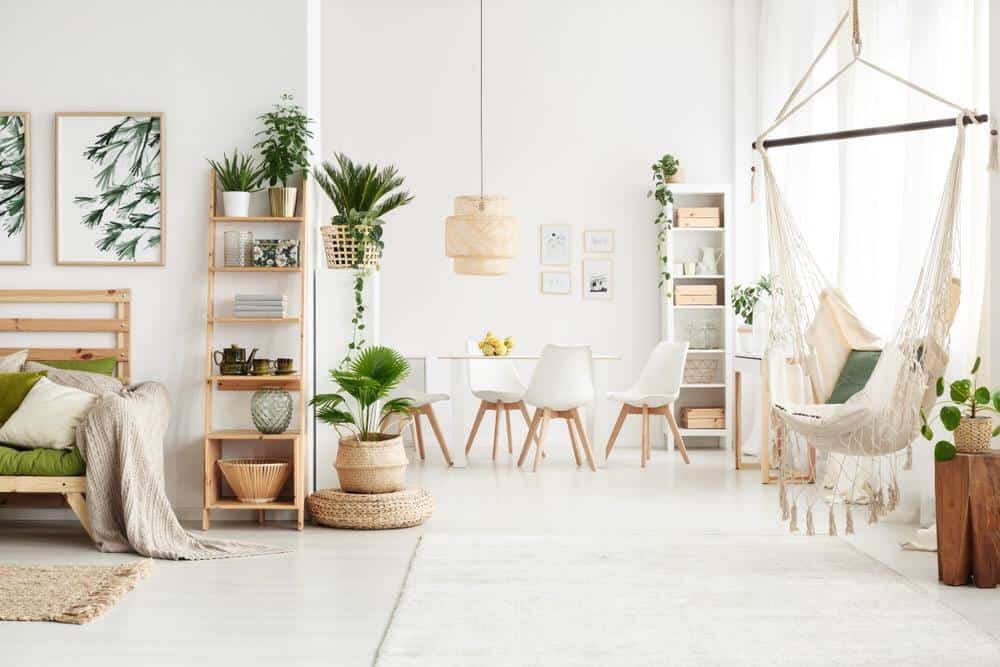 Source : Pinterest
Driftwood, pallet furniture, houseplants and small flowers… Simplicity, minimalism and eco-responsibility are synonymous of a slow decor. Adept of rattan and other basketwork, the trend wants to be respectful of the environment and puts forward natural materials that will persist over time in addition to being recyclable. A gentle harmony between decor and environment.
8. An accent wall to generate interest and add punch to your decor
Source Décoration de table Pinterest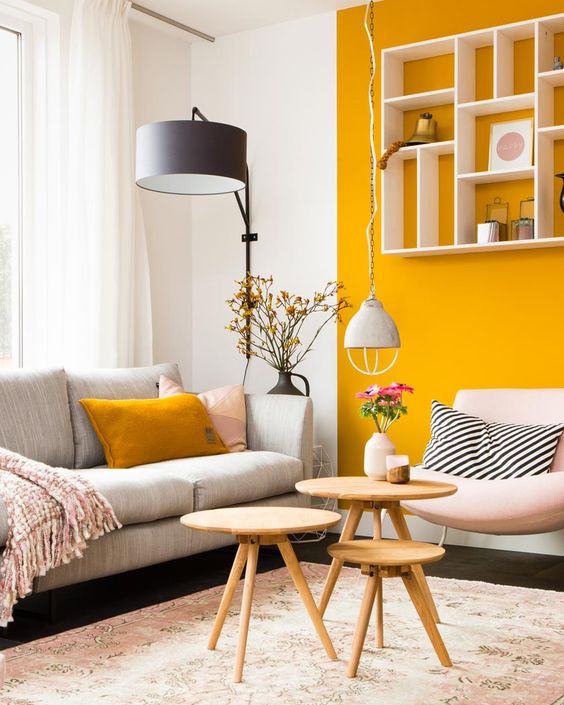 Dare to go yellow, terracotta or burnt orange! These particularly trendy colors will revitalize your decor and energize the room. The idea is to concentrate the color on a section of the wall to catch the eye and wow the gallery.
9. Mixing patterns: Anything goes.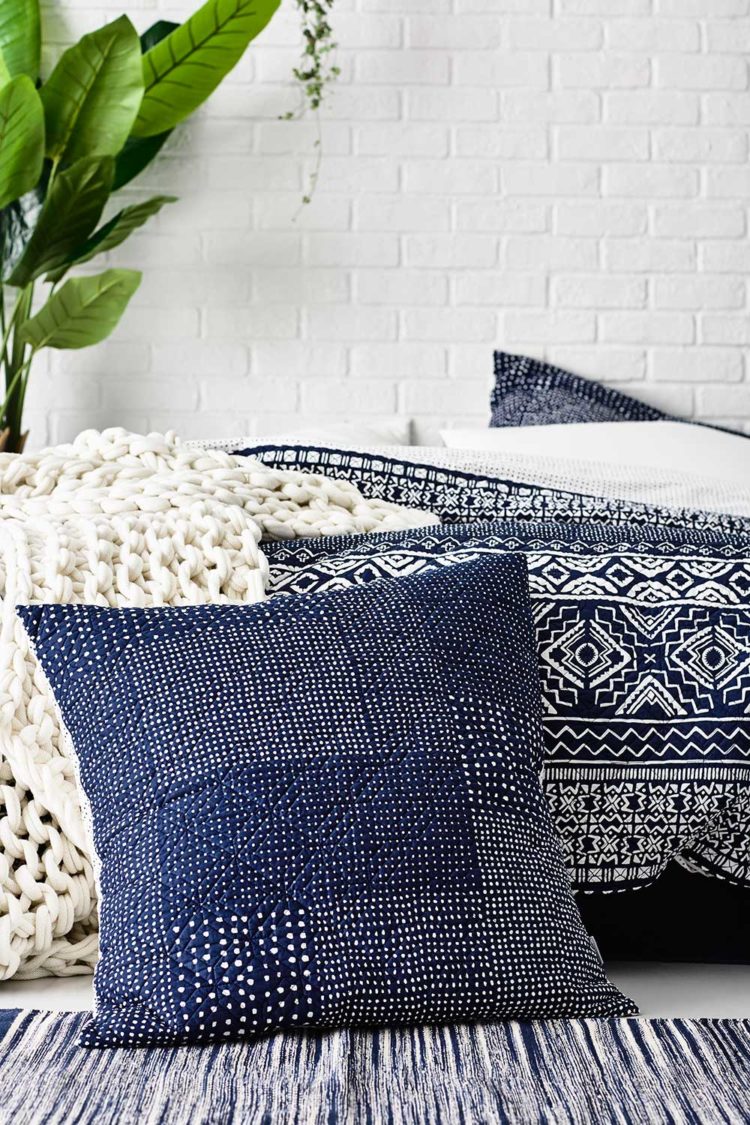 Source : Fashion Quaterly
Encountering patterns that blend together and prints intertwine without embarrassment. Associations are inventing themselves and becoming masters of this new decor trend. Flowers blend with geometric shapes and tropical life meets wildlife with open arms.
10. Handicrafts and homemade objects: A reminder of authenticity
Crédit Photo : Hare & Klein
Ceramics and pottery, kneaded work, molded by hand or on the tower, made with heart; we review our interior with feeling and reconnecting with the essentials and values. These jewels add a final note that celebrates this long underestimated know-how.
Our trendy favorites in flooring:
💛 For a Concrete Look : Ceraforge Collection 12 in x 24 in
💛 For a Natural look : Engineered Wood Flooring | Ambiance Collection – Pure Genius – Tempo